2014/05/31-6/1 : DJ SHARPNEL on Japan Animix 4
Japan AniMix 4 is another settlement, the 4th edition already !
Lets hope we can make this event just as big as last time.
We will allow signups, and focus on a 2-day event.
3-day event might occure when we get more signups then expected.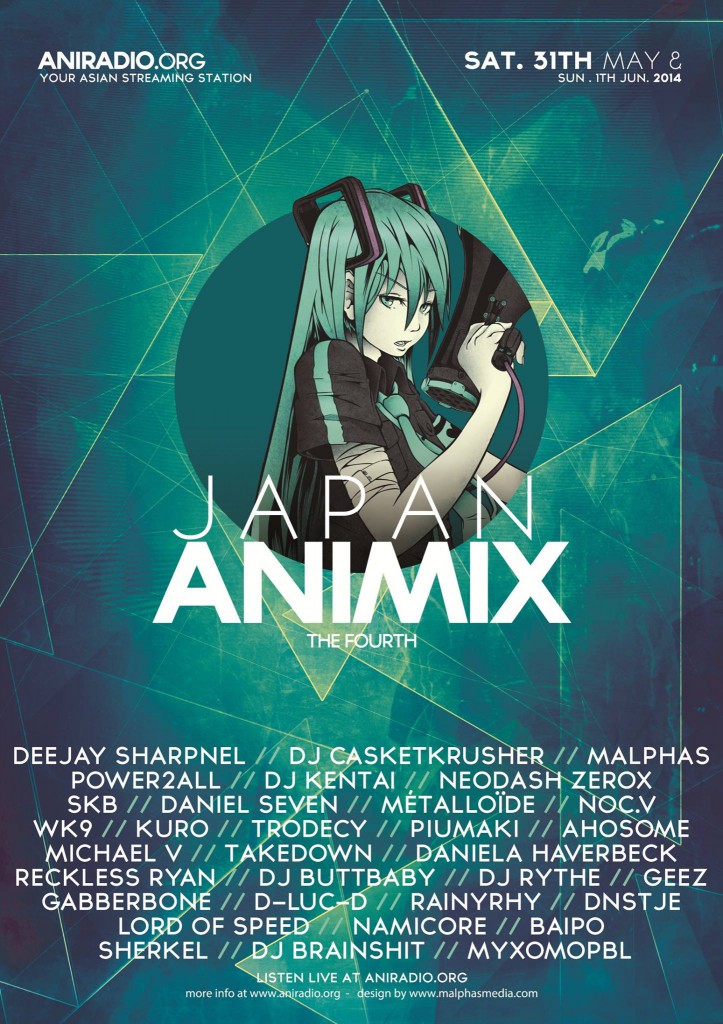 The party is currently expected to start around 12:00 GMT+1 Dutch time on a saturday.
Website: http://www.aniradio.org/
Chat: http://www.aniradio.org/contact.php
Stream: http://stream.aniradio.org:8000/stream2.mp3
Confirmed DJ's List:
===========================
* AhoSome (France) [EDM] ***
* Baipo (United States) [HardTek/Tribecore/UK x J-Core] ***
* Dj BrainShit (Germany) [JayCore Invasion] ***
* DJ Buttbaby (United States) [Hardtek, Frenchcore, Breakcore] ***
* DJ Casketkrusher (Netherlands) [Early Hardcore, Happy Hardcore] ***
* D-Luc-D (United Kingdom) [Breakbeat Hardcore / J-Core / Funkot]
* Daniel Seven (Italy) [UK Hardcore, Breakbeat Hardcore, Drum & Bass ] ***
* Daniela Haverbeck (Chille) [Hard Techno] ***
* Dnstje (Netherlands) [Freestyle]
* Dr.Baka (Austria) [J-House / J-Core] ***
* Gabberbone (France) [Frenchcore/Speedcore] ***
* GEEZ (Czech Republic) [Crossbreed/Frenchcore] ***
* DJ Kentai (France) [Freestyle] ***
* Kuro (Austria) [J-Core, UK Hardcore] ***
* lord of speed (Netherlands) [Terrorcore/Speedcore] ***
* Malphas (Netherlands) [Hardstyle/Hardcore] ***
* Métalloïde (France) [Frenchcore] ***
* Michael V (United States) (Hardcore Rave/ Hard Techno/ Bass Music) ***
* MyXoMoPBL (Sweden) [Breakcore] ***
* Namicore (Mongolia) [Hardstyle/UK Hardcore] ***
* Neodash Zerox (Netherlands) [Freestyle] ***
* Noc.V (Australia) [J-Core. UK Hardcore] ***
* Piumaki (Italy) [Uk Hardcore/Freeform/Drum n Bass] ***
* Power2All (Netherlands) [Durpcore] ***
* rainyrhy (Singapore) [Anime/Vocaloid Electro House] ***
* Reckless Ryan (United States) [Electro/Progressive]
* Round Wave Crusher (Argentina) [RoundWaveCrusher Style] ***
* DJ Rythe (Singapore) [J-Core] ***
* Deejay Sharpnel (Japan) [J-Core] ***
* Sherkel (United States) [J-Core] ***
* SKB (Spain) [Gabber, Makina, J-Core, Newstyle] ***
* Takedown (Germany) [J-Core, Hardcore, Breakcore] ***
* Trodecy (Netherlands) [J-Core, Wubstep] ***
* Two-Sheds Project () [] ***
* WK9 (Finland) [UK Hardcore, House, Trance, Progressive] ***
34 DJ's
32 Sets received
————————–————————–———-
Party Time Table:
Day 1:
[12:00 ~ 12:45] : Daniel Seven
[12:45 ~ 13:30] : Michael V
[13:30 ~ 14:15] : MyXoMoPBL
[14:15 ~ 15:00] : Daniela Haverbeck
[15:00 ~ 15:45] : Baipo
[15:45 ~ 16:30] : DJ Buttbaby
[16:30 ~ 17:15] : D-Luc-D (!)
[17:15 ~ 18:00] : Reckless Ryan (!)
[18:00 ~ 18:45] : SKB
[18:45 ~ 19:30] : DJ Casketkrusher
[19:30 ~ 20:15] : Neodash Zerox
[20:15 ~ 21:00] : Métalloïde
[21:00 ~ 21:45] : lord of speed
[21:45 ~ 22:30] : GEEZ
[22:30 ~ 23:15] : Gabberbone
[23:15 ~ 00:00] : Round Wave Crusher
[00:00 ~ 00:45] : Trodecy
Day 2:
[12:00 ~ 12:45] : WK9
[12:45 ~ 13:30] : Namicore
[13:30 ~ 14:15] : Power2All
[14:15 ~ 15:00] : Dr.Baka
[15:00 ~ 15:45] : rainyrhy
[15:45 ~ 16:30] : Malphas
[16:30 ~ 17:15] : AhoSome
[17:15 ~ 18:00] : Dj BrainShit
[18:00 ~ 18:45] : DJ Rythe
[18:45 ~ 19:30] : Kuro
[19:30 ~ 20:15] : Piumaki
[20:15 ~ 21:00] : Two-Sheds Project
[21:00 ~ 21:45] : Noc.V
[21:45 ~ 22:30] : Sherkel
[22:30 ~ 23:15] : DJ Kentai
[23:15 ~ 00:00] : Deejay Sharpnel
[00:00 ~ 00:45] : Takedown
————————–————————–———-